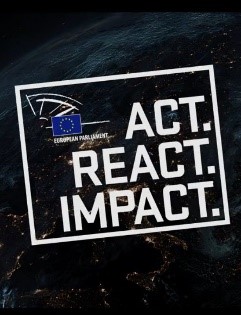 Notre regard sur ...
About the European Parliament communication campaign for the late May elections: perhaps it would have been necessary to act differently to convey the message that "this time, it's different"?
Have you watched on your television the corporate communication campaign funded by the European Parliament Information Office? And do you know what its slogan means i.e. This time it's different – Act. React.? Impact ? Before you read what is next, give your entourage a test. Personally, I did not get any positive answers to any of those questions… 
This elliptical slogan sums up that for the first time, the choice of the outcome of the voting will appoint the European Commission President. While the candidate who runs for presidency used to be designated by joint agreement of the heads of State or governments, this time the major parties in Parliament have designated a candidate to succeed José Manuel Barroso. After the vote, the choice of the Commission President will fall to the winning party.
The Lisbon treaty offered European citizens the power to choose, by electing their representatives, the next Chief Executive of the European Union, who will determine the major policy guidelines. If only the European citizens were aware of it. 
No doubt that the campaign video has been polished up, but we can feel the intellectual distance specific to Brussels when it comes to communicate with us, especially regarding the "dark" film making style. Would the « This time, it's really different » ellipse be sufficient to make English, Greek, French or Polish voters aware of their new power? Perhaps would have been better if voters had been clearly invited « to choose the President of Europe »? 
Especially as the advertising space purchasing budget is not big enough to reach citizens in the 28 European Union countries. It won't be broadcasted on TV and is not very visible on social networks so far. One can therefore ask whether a corporate campaign was really useful. One can also ask whether it was the parties' role to communicate on what is at stake regarding the new composition of the Parliament. Perhaps the film budget would have been better allocated by informing the voters directly? While polling station will open within one month (from  the 22nd to the 25th of May depending on which country) and while extreme parties and abstention are threatening the results as never before, how many of the 400 million European voters asked to elect 751 MEP know that they are more powerful than ever?